See What's Included
Smartsites come with a set layout to make the build process easy for you.
With the option for additional add-ons, you can tailor the Smartsite to fit your company's needs and budget.
Setup: $1495
Mobile Responsive Design
Home Page
SSL Certificate
On-Site SEO
ADA Compliant
WCAG Compliant
Meets W3C Standards
Onsite Blog
What do standard pages look like?

Our standard page layouts are what you see in each of our design examples and are included in the base price.

Can I make customizations?

You can request as many custom pages as you like at an additional cost. Each custom page will be designed and approved by you prior to build.

Can I change what pages I want on my site at no charge?

Yes, as long as they do not require a custom design and you are not over the total page count of 15. The pages that come standard with each design are just recommended. Additional pages over the standard 15 can be added at any time at an additional cost.

Are my logo and branding colors included?

Of course! Each design will be matched to your company branding at no charge.

Do you help with content?

We will do a full analysis of your existing content, create a content worksheet, organize your content for best conversion rates and make recommendations that will positively impact your SEO, but we do not offer content writing services. All of our Smartsites come with some stock content that you are free to use if you do not have current content or are looking to supplement your existing content. If you do not have images on your website, PMW can provide stock photos for your use while a PMW client. The contract with our stock image sources do not allow you to use the stock photos if you terminate services with PMW, but we can provide links for you to re-purchase if you choose.

How long do Smartsites take to build?

We can typically begin your Smartsite build as soon as you have finalized your content. A normal Smartsite build can take about 7 to 10 business days after content approval, however, if our build queue is particularly busy or if you have opted to include custom pages as a part of your Smartsite, the website build may be extended by a few days. Your project manager will keep you up to speed on your anticipated website completion date.

How many market landing pages do I get?

For our Smartsite product, you get 5 market-specific landing pages, which are good for SEO and should target your primary areas of service. You can purchase additional market landing pages at $99/page, but we don't recommend going over 10 total as it isn't beneficial to your SEO efforts and most smaller areas do not have the search volume to justify needing the page.
LOVED BY OUR CLIENTS
Kris Bruce, Green River Property Management
"Thank you a million times over for all of your efforts. I have signed more properties in the last 2 months than I have in over a year - so thank you!!"
Explore Page Add Ons
Custom Homepage: +$350
Pricing Page: +$250
Guarantees Page: +$250
Content Clustering: +$350
Additional Custom Pages: +$250/page
Additional Non-Custom Pages: +$99/page
Can pages be added later? Even after the site goes live?

Yes! New pages can be added to your website at any time at no charge if you are under the 15 count page limit. Additional pages over the 15 can be added at the custom or non-custom price above.

What is content clustering?

Content clustering expands on the property management lifecycle, such as marketing, tenant screening, rent collection and more. Having this type of content on your website increases keyword density and overall could improve your onsite SEO.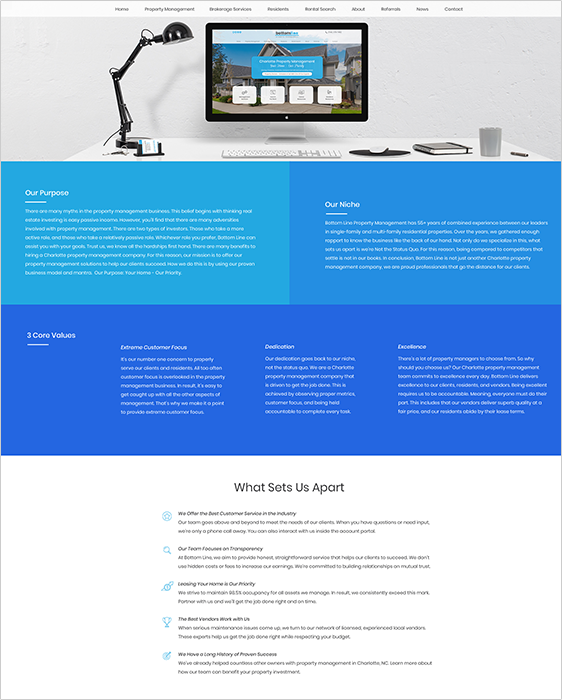 Custom about page
LOVED BY OUR CLIENTS
Duke Dodson, Dodson Property Management
"I just wanted to take a moment to say thanks to PMW. They helped us get to 1st in SEO in our market, and we've stayed there ever since due to their guidance. They helped us grow from 300 units to over 6,000."
We Do More Than Build Amazing Property Manager Websites
One partner, more solutions, paired seamlessly with your website.
Ready to Attract Property Owners? Grow Your Business? Perform on Google? Get Started?
Fill out the form below and we will be in touch!
or
Choose a time and day that works for you!